OVERVIEW
If you have read my article  "what is the best mower for you", and you want a lawn with stripes but prefer a rotary mower, then this review of the Cobra RM46SPB (find Cobra mowers here) is worth a good look. It is very robustly built, and although more difficult to manoeuvre than a cylinder mower, especially on gravel or rough areas, it is easier for an amateur gardener to maintain a sharp cutting action.
The controls are simple and easy to use, with the main handle well padded for operator comfort, and the quick release leavers for folding the handles very useful.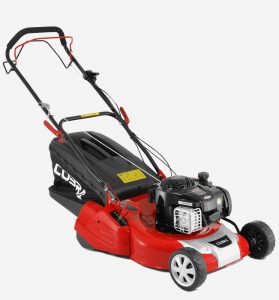 The engine is a 140cc petrol Briggs and Stratton 500e series, and though weighing 32 kilos and having a generous 60 ltr collection bag, has ample power to drive the self powered machine.
There is a cutting range of six settings between 17mil and 75 mil, though I would not recommend cutting ornamental lawns normally in the higher three settings if you are looking for a good finish.
The cutting width is 18 inches, which makes this mower most suitable for medium to large lawns that do not have a lot of obstacles or severe slopes.
ADVANTAGES
This mower will leave a nicely striped lawn, especially if cutting regularly at the lower heights
The cobra mowers are very well priced in the roller mower market, most others are substantially more expensive as they are aimed at the professional market rather than at the domestic market
It is much easier and cheaper to maintain a sharp blade over the season than a cylinder mower
The cord is very accessible, and starts the engine very easily
A roller mower is very useful as the rolling action helps to control moss and thatch in the lawn, so giving a firmer surface
The Cobra collects the grass very well, with a good quality, high capacity collection bag, and a chute that compacts the grass very well, so filling the bag better
Cutting up to edges is very easy as the rear roller allows the blades to overlap right onto the edge without any problems of wheels getting stuck
A big advantage is that it folds up easily for compact storage
DISADVANTAGES
Most rotary mowers do not collect grass so well as a cylinder mower in wet conditions, so can leave the lawn a bit messy with loose grass
A big disadvantage of roller mowers is that they are difficult to manoeuvre over rough ground, or even worse on gravel, so there would have to be a consideration as to where the mower is stored
If there are a lot of obstacles or severe slopes on the lawn then do not consider a roller mower of any type, a smaller wheeled rotary, or a floating head mower such as the Flymo is more suitable for these situations
CONCLUSION
If you have a medium to large lawn, and want to have a fine striped finish without the added time and money of maintaining a cylinder mower in sharp condition, then the Cobra RM46SPB is well worth the money
Cobra also have three models in the RM40 range, built to the same standard, but with a smaller capacity collection bag and a 16″ cut, which being cheaper may well suit the budget of some lawn owners better.