In this review I will review three of the best electric cordless lawn mowers on the market. I'll give you options from each of three price ranges to give a choice that will suit the individual budget.
OVER £300
COBRA SELF PROPELLED CORDLESS MX46S 40V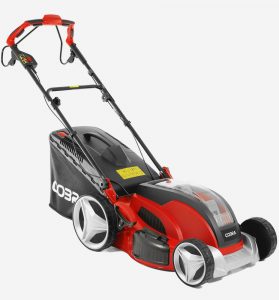 Cobra have introduced their new electric cordless mowers, called the Li-ion range, all powered by a 40 volt lithium ion battery. For this review I have picked the top of the range MX46S 40V self propelled model.
SPECIFICATION
This mower has a pretty impressive specification. Powered by two powerful 40 volt lithium ion batteries, it is self propelled, and has an impressive 60 litre grass collection bag. The cutting width is 18″, which covers the ground very quickly
The mower is packed with safety features to avoid any possibility of starting accidentally, so is very safe with children or animals around.
PROS
No petrol or electric cords to worry about
The two batteries, although working separately, are powerful enough to cope with any conditions, including long grass and steep slopes. Unlike many electric mowers there is also a battery charge indicator both on the handle, and on each of the batteries, so no reason to run out of power mid job
Light and easy to handle
Self propelled, so very easy to move around, and great for larger lawns, or big slopes
Good safety features are always to be commended
The handle is easily adjusted, and very comfortable to use, as is the cutting height adjustment, and there is a useful grass box full indicator to avoid leaving a trail of cuttings
The option to use a mulching facility to return clippings, or a side discharge chute when cutting longer grass, is not a feature found on many petrol mowers, never mind electric
Folds to a very compact size for storage
CONS
Not many cons I could find on this mower apart from the premium price for a domestic mower, and the fact that being a wheeled rotary you will not get stripes.
One other would be that many manufacturers are producing a range of accessories such as hedge cutters and strimmers that use the same battery, but I am sure Cobra will not be far behind with that.
VERDICT
If you are looking for an electric mower, and have a decent budget, I would certainly say this is a great buy at between £460 and £490 (find it here)
OVER £180
Aerotek Cordless Lawnmower 40V Lithium-Ion Battery & Charger
SPECIFICATION
The power source is a 40 volt lithium ion battery, which also powers a range of other machinery
A good range of six cutting heights from 25 to 75 mil, easily adjusted by a single lever
A reasonable cutting width of 400 mil covers the ground fairly quickly
A  generous fifty litre capacity grass box with indicator to show when full
A mulching attachment is included
PROS
No petrol or electric cords to worry about
At only 14.9 kilos this mower is very easy to handle.
The wheel and deck set up allows the lawn to be cut close to edges
The mulching attachment is very useful in returning cuttings during drought conditions
Folds to a very compact size for storage
The battery also powers a range of other tools such as a hedge cutter, chain saw, and strimmer
Collects grass very well, and good indicator to show when full
There is a good two year guarantee
CONS
This mower is not self propelled so would not be suitable for big lawns or slopes
No stripes as it is a wheeled mower
VERDICT
For the price of £230 to £250, including the battery, this is excellent value, and the range of accessories is really good, and well priced as well. Certainly the Aerotek ( find here) is a really good buy in this range.
UNDER £180
FLYMO MIGHTI-MO 300 LI
SPECIFICATION
Powered by a 4o volt lithium-ion battery
Weight is 9.9 kilo
Five cutting heights, 25 to 65 mm
30 litre grass box capacity
30 cm cutting width
PROS
No cords or petrol to worry about
No wheel drive
Very light weight and compact for storage
Narrow cutting width is good for tight spaces
From the well known flymo brand
Cheapest on review
Cuts close to the edges
CONS
Maximum cutting area of 250 sq mtrs
Very slow as only 30cm cutting width
No mulching option
No attachments
VERDICT
At around £150 pounds this is a reliable mower worth considering for a small reasonably flat lawn. (find it here)