Sometimes, despite your best efforts, your lawn will need the care of a turf-grass professional.
I offer a good value Lawn Consultancy Service, advising you on how to care for your lawn, fix problems and get the results you want. I offer this service remotely, via email and telephone, and can easily diagnose problems and create a care plan for you based on a little conversation and a few good photos.
I then offer support throughout the year to help you combat your lawn care problems or advice on improvements – all for 1 low-cost price.
This is an innovative and effective new way of providing lawn care, saving you a fortune over a year on lawn care fees, and furnishing you with a great lawn at the end of the contract.
Why Would I Want a Remote Lawn Care Service?
My service is a one-stop shop that sets you up to care for your own lawn in the long term.
No more paying for Lawn Care companies to visit your garden every month, or even every week. You can save yourself hundreds £ or $ by using my custom made lawn care plan, tailored for your garden and following it's advice to look after your own lawn.
If you're not sure if this is for you, have a look at what one of my more recent customers had to say:
Here's what one of my recent customers had to say:
Dear Duncan,
It has been nearly one year since you advised us on treating our lawn, and the results this and your maintenance programme have been so amazing that I've had no need to contact you again since.
The lawn has been as dense and lush over the whole summer as we have never seen before, and the organic fertilisers you suggested worked a treat.
Many thanks for your advice,
Guenther
What's Included In This Remote Lawn Care Service?
You can phone or email me at any time with questions, whether it's about how best to mow your lawn or about what fertiliser you should buy. Whatever you need, I can help.
My Remote Lawn Care service includes all of this:
A fertilising and supplement programme for 1 year, tailored to the exact conditions of your lawn

A maintenance programme for 1 year, including mowing, aeration and other techniques as required by your particular lawn

Information on how to kill any disease your lawn currently has

Advice on how to remove the weeds afflicting your lawn

1 year of telephone and email support – my 35 years of grass care experience targetted at the exact problems that you're having.
My Guarantee – Your Satisfaction or Your Money Back
With this purchase you have a full 30-day money back guarantee – if you're not happy with the service then just let me know and I'll refund your payment right away.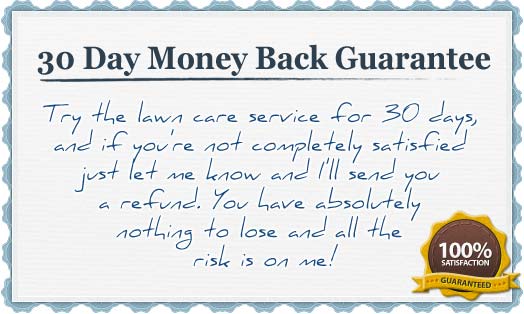 Common Problems That This Service is Ideal For
I have extensive experience with grass and lawn care in all parts of the world and offer solutions for a variety of lawn and grass based problems.
Do you have disease or weeds in your lawn that you can't shift?
Are you not sure what type of grass you have and how to care for it?
Do you want advice on how best to mow your lawn?
Whatever you're needing help with, I'm happy to assist. I can offer a fully remote lawn care service service which simply involves you sending me information on the current state of your lawn, your current equipment and a few photos of the grass itself, including layout and condition.
Don't Just Take My Word For It: Listen to My Happy Customers
Lawns For You is just a little family run company, led by myself, Duncan Gray, and ably assisted by my son, Colin. Our company's prime ethos is keeping up a quality service, and that means working in a small, expert team, all so that we can provide a great service and a very good value price. As a lawn care professional, my primary aim is customer satisfaction and, with this package, I can make that happen.
You don't need to take my word for it though, I've collected reviews as I've worked. Have a look through my references below so you can be sure you're dealing with a good family run, small business.
Garden Maintenance in Auldgirth
"this man is very good, arrived when he said he would, did the job he said he would . and I hope that we can continue to work on my garden for me."
Garden Maintenance in Annandale South
"Very good service. Duncan is a lovely man and very helpful. We will definitely use him again and would highly recommend him!"
Lawns – Turfing / Seeding in Leith
"Excellant Service and very well done job."
Garden Maintenance in Annandale North
"THE COMPANY WAS EXCELLENT AND WE ARE NOW USING THEM FOR OUR GARDEN AS AN ONGOING PROJECT……AND WILL RECOMEND DUNCAN GREY TO ALL OF MY FRIENDS AND ANY ONE…"
Buy Now and Save Yourself a Fortune in Time and Money
Stop wasting your time doing the wrong thing for your lawn. Stop wasting money on Lawn Care services that barely know how to start a lawnmower. Stop wasting your family's precious funds on products that just aren't suited to your garden environment.
Buy my service today and do the best thing you've ever done both for your garden, and YOU.
1 Year Lawn Care Service – £149
Buy today and get started on your lawn care plan right away. After purchase I'll be in touch with instructions on the information I need to supply the lawn service and on how you can get it to me.