I've talked about seaweed fertiliser a lot on this site because I think it's a great organic way to fertilise and supplement your garden. Not only is it of benefit to plants, though, it seems that seaweed can be great for us too!
One serving of seaweed has more than ten times the calcium content than a glass of milk, more vitamins and minerals than any land produced vegetables, and seaweed has the ability to prevent and protect against a range of diseases. It is thought that seaweed could possibly help protect against athritis, colds and flu, skin diseases, osteoporosis, and also help to lower cholesterol and maintain brain health.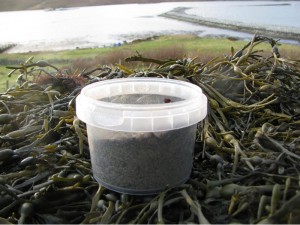 Seaweed is a constituent in many food production methods throughout the world, for example ice cream, because of the wide array of benefits it provides. One very good example is using fine ground seaweed meal as a substitute for salt when cooking or sprinkling on food as it gives the same flavour, with all the benefits of seaweed, while reducing your salt intake.
There are a number of seaweed products available for human use. These include seaweed meal for sprinkling on and mixing with food, and both dried and fresh seaweed for cooking purposes. Liquid seaweed extract is ideal for adding to pets drinking water, and there are seaweed granules and meal available for adding to their food.
A lot of the edible seaweeds have been used in many countries for centuries, but they're only now being recognised for their benefits in Europe. These seaweeds can be used as part of a main dish or as a side dish in place of vegetables, with many types and flavours to choose from. My family first experienced the benefits of seaweed when being introduced to Carrageen while living on the west coast of Ireland. When boiled with milk and then strained, the carageen is an excellent cure for sore throats, and helps to alleviate the symptoms of colds and flu. It tastes delicious hot, or it can be left to cool whereupon it forms a jelly. Lastly, and most deliciously, it's great in a hot toddy – for adults only of course!
If you'd like to try out a bit of seaweed for yourself, have a look in the Lawns for You seaweed products section of our garden supplies shop. We sell small packs of edible seaweed there for you to try out.
Do let me know what you think in the comments below – have you tried out seaweed before? Tell me what you thought!