3 – Leatherjackets and chafer grubs These grubs can cause enormous damage to turf as they feed on the roots and young shoots of the grass plants. This alone can decimate managed turf, but even worse damage is caused by birds, and even badgers and foxes, tearing up the turf to feed on the grubs. Leatherjackets are the grub of the cranefly (daddy long legs), of which there are many types that...
Read More
  1 – Compaction Compaction is the hardening of the ground in and around the surface, which inhibits water, air, and nutrients entering the soil profile. Compaction is caused by pressure on the surface, whether by feet, mowers, or weather, rain in particular. Compaction is probably the number one enemy of managed turf as it restricts the ability of the grass plants to breath and take in...
Read More
WHAT IS MOSS There are thousands of different mosses, so for the purpose of this article I will talk purely of the main types which inhabit, and cause problems, in turf. First we have to understand the difference between mosses and grasses. Mosses are flowerless plants that are generally only one cell thick, and do not contain the vascular water transport system that most other plants contain....
Read More
We've recently carried out some quite extensive work with a client that I thought was well worth sharing. He owns quite a large lawn, around 1 acre in size, and came to us following a year where the weeds wouldn't stop growing, his moss infestation grew worse and the health of his lawn just declined before his eyes. It's often at this point that garden owners just can't...
Read More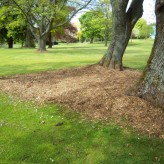 Shade is the sworn enemy of the keen grass grower. Like the majority of plant life on our planet, grass needs light, and finding a good grass for shade is a tricky business. Shady areas on your lawn represent spots where your grass is starved of the nourishment it needs to grow well, but don't worry, there are a few solutions to the low-light condundrum. In this article I'm going to...
Read More
Why does water cause problems. Wet weather and turf maintenance are not good bedfellows, as anyone involved in the industry, particularly over the past few Summers, can testify. When more rain is falling than the drainage capacity can cope with, the rootzone becomes waterlogged. This means that all of the air is forced out and the grass plants, or any other plants for that matter, simply...
Read More