Why this will help. I have identified a need for a tailor made package of all the supplies required for a bowling club to maintain a green to the highest standard, to be made readily available. After having discussed this with our suppliers, we are now able to offer a very competitive one stop shop to save inexperienced bowling green committees searching through a bewildering array of the...
Read More
What is aeration? I am often asked to explain what is meant by the term "aeration". In simple terms it means taking any action to relieve compaction caused by feet, machinery, and weather conditions. If the soil becomes compacted, the essentials for healthy plant growth, air and nutrients, can be exluded from the rootzone leading to a weak and disease prone turf surface. There are...
Read More
Importance of Spring Fertilising Spring is the most important time of year in the maintenance schedule for any type of grass. What is applied, and just as importantly, when it is applied, will dictate the quality of the grass sward for the rest of the year. Fast Start Depending on where in Northern Europe you live, the Spring can arrive anywhere from early March, right through to the middle of...
Read More
The wonder of Seaweed Seaweed is normally classed just as a soil conditioner or fertiliser in the gardening world. Its benefits are so extensive, though, that it should also be given top billing as part of any maintenance programme for the growing of plants as it contains over sixty minerals and trace elements along with numerous bio stimulants. Seaweed can be used as a fertiliser or soil...
Read More
Myth. Contrary to the advice given in many gardening magazines and TV programs, the grass does not stop growing during Winter in our climate. Any mild spells see grass growing, albeit much more slowly than at peak times. The importance of Autumn One of the main secrets of a good lawn is to ensure the grass is healthy going into Winter, and this is where it is essential to feed in Autumn with a...
Read More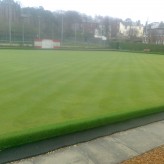 Introduction This article is designed to enable even the least experienced volunteers or green keepers in bowling clubs to follow a plan of action to maintain the bowling green in good condition throughout the season. In conjunction with the article I have negotiated a package of the fertilizers and other treatments which I would recommend to carry out the advice I will be offering. This package...
Read More